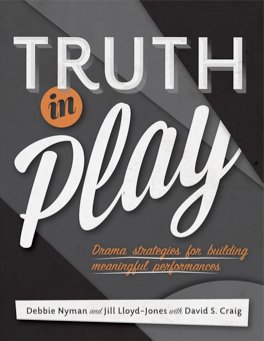 Truth in Play by Debbie Nyman, Jill Lloyd-Jones and David S. Craig.
Geared towards high-school students, Truth in Play: Drama Strategies for Building Meaningful Performances features a curated collection of short scenes from Canadian plays, complete with learning activities and teaching strategies for each. The scenes included in this book will help students step inside the text and empathize with the characters to further their understanding of motivations and feelings. As a vehicle for deepening comprehension and exploring relevant themes and issues, Truth in Play creates a shared experience to build meaningful relationships and to allow students to connect authentically with their characters in performance.
Available from Playwrights Canada Press.
More Than a Play
is a collection of nine short plays for Junior/Intermediate classes, written by Canada's foremost playwrights, exploring equity and social justice issues.
Key questions and follow-up activities have been created by Ontario educators to support critical thinking about issues of social justice and equity.
The collection features two short plays by David S. Craig including The Speech, The Deal, and Marche conclu.
For a copy of More Than a Playcontact the Elementary Teachers' Federation of Ontario,  www.etfo.ca, or fill out an order form here: MoreThanPlayForm
Collected here are a number of Mr. Craig's writings on various topics pertaining to playwriting and theatre for young audiences.
Interview with David S. Craig by Brenda Kamino – Equity Quarterly
"An  Open Letter To Stage Performers" by David S. Craig – EQ Voices (pdf – 624kb)
"They Don't Get Us and We Don't Get Them" by David S. Craig – CanPlay Magazine
"Theatre for Young Audiences: Considering Quality" an interview with David S. Craig by Prof. Larry Schwartz, OISE, Toronto (pdf – 124kb)
"On Political Theatre" by David S. Craig, selection from a panel discussion at the Magnetic North Theatre Festival
"Theatre for Young Audiences in Canada" by David S. Craig – TYA Today magazine
"The 'Issue' with 'Issues'" by David S. Craig