Upcoming Productions
Works in Progress

Lysistrata and the Temple of Gaia by David S. Craig 
gets its World Premiere at Odyssey Theatre!
Inspired by Aristophanes' Ancient Greek classic Lysistrata, this new play is a satire set in an environmentally chaotic future world. It reimagines one of theatre's oldest tropes: the sex strike.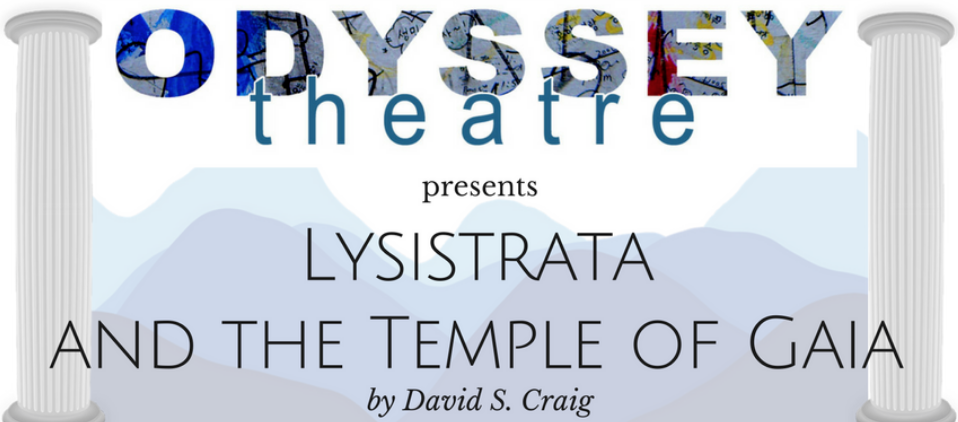 Lysistrata and the Temple of Gaia is set in the year 2118, and climate change has made the world inhospitable. The rising oceans are acidic, the air is toxic, and the plants and animals are dying.
But, for the humans of the future, it's easy to dismiss all of this as "just the weather." Easy, that is, until an ancient goddess named Gaia appears and threatens to destroy all humanity unless they promise to take better care of the planet. The women agree, the men refuse, and a classic battle of the sexes ensues. Thus begins the world's first eco-sex comedy.
TICKETS ON SALE JUNE 4TH. 
Bombers playing to rave reviews and sell out crowds at the 4th Line Theatre.
The reviews are in! Kawartha NOW and The Slotkin Letter give Bombers glowing praise.
"4th Line Theatre has put together a wonderful show that really has something for everyone. It has history, action, comedy, romance, tragedy, and joy. It has music and dancing, a sensational cast, great costumes, clever direction, and great use of a unique performance space. But most of all, it has a strong story that is cinematic in scope with a lot of heart." –  Sam Tweedle, Kawartha Now 
"David S. Craig got the idea for Bombers: Reaping the Whirlwind from one of his friends who did fight in the war. David Ferry brought his own family history—his parents were caught up in WWII—to the project and the result is a thoughtful, very funny, moving play and production about bravery and friendship. It leaves you with lots to think about and much more to be grateful for."–  The Slotkin Letter
Talking Lysistrata with Director Leah Cherniak
Q. Are you excited to be bringing this new play to an audience for the first time?
A. I'm always excited to be doing something new with David – even though it is just a single performance. He's a fantastic talent and I'm really enjoying working with him on putting this reading together.
Q. Is this play a modern classic or a classically modern one?
A. It is definitely modern and contemporary but I think of it more as a complete reinvention of a classic play. The main characters are there but the situation, dialogue and the struggle are completely reimagined for today's audiences.
Q. What has intrigued you the most about reading the play so far?
A. I directed another version of this play about 15 years ago so it is really fun to read something you are already familiar with and then see how the playwright has adapted and changed the source material. I also love the fact that the women in this play are the strong characters that move the action and are counteracting the actions of the men's agenda. It's also really funny.
Q. "Lysistrata" is a dramatic reading rather than a full-on play – how does that make your job as Director more difficult?
A. As a Director I can only prepare so much because we have very limited rehearsal time. This makes the project more fun but also more challenging. We will need to really focus on the essential parts to activate the audience's imagination and bring the world of Lysistratato life.
Q. I understand that there will be some Greek Chorusing going on – how will you be using that?
A. Lysistrata is not a musical but the Greek chorus will bring some music and song that will help to play up the comedic aspects. The songs have a lovely cabaret style vibe that sets the comedy going from the beginning and sustains it throughout as the they keep coming back with "new and improved" messages for the cast and audience.
Q. How do you feel about the issue at hand – is climate change affecting your life today?
A. Experiencing Lysistrata & the Temple of Gaia is a great reminder to everyone that we need to keep focused on this issue – we need to get on with fixing things and stop talking about it. The play is not prescriptive but still very forceful. Comedy is a great way to get a point across to a broad audience.
Q. What do you think the audience should know about Lysistrata before seeing the show?
A. This is not some kind of fusty old Greek classic. David has done an amazing job of making this play really contemporary and witty. It will be a delightful afternoon.
This delightful afternoon will take place April 24th at Trinity St. Paul's.
Have a watch and a listen to David discuss his new play Lysistrata and the Temple of Gaia, which will receive a reading at Trinity St. Paul's on April 24th.
An ecological sex comedy that seeks to change the story– and it has dildos!
The Washington Post recently announced Double Trouble, the first English language stage adaptation of Erich Kastner's world famous novel Lottie and Lisa, has been nominated for a Helen Hayes Award for "Outstanding Original Play or Musical Adaptation.
UPCOMING PRODUCTIONS
WORKS IN PROGRESS
David S. Craig is currently hard at work…
Developing Frenchy's:  The Thrift Musical  the world's first thrift musical about, "four women in search of a new life, and a new wardrobe, at a fraction of regular retail."
As the playwright in residence at Odyssey Theatre in Ottawa. David is currently researching and creating a modern adaptation of Lysistrata by Aristophanes.
Fire and Ice  – An environmental thriller.  With Richard Greenblatt.