November 14, 2014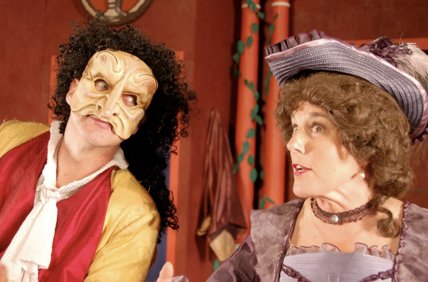 Dear Reader,
This week I had an intense two-hour conversation with Laurie Steven, AD of Odyssey Theatre and Jan Irwin, Dramaturge, around the use of mask in my play Lysistrata and the Temple of Gaia.   There had been a misunderstanding and I couldn't go any further until it was resolved.
The Odyssey Theatre describes itself as "A Theatre Like No Other" and it's not hard to understand why.  The company has, for over twenty-five years, produced an annual outdoor production that is lavish, classical and, most uniquely, features the use of individually designed and constructed character masks, each a work of art.
The use of masks has never been central to the English theatrical tradition.  On the French stage, yes.  On the Italian stage, of course.  But even in Restoration Comedy, our most mannered period, where there would have been exaggerated makeup, costumes and wigs, masks were used only occasionally and peripherally.  (A lady, for example, might have a mask on a stick to disguise her identity in the theatre, a place still tarnished by sin!)  But at the Odyssey Theatre, the mask takes centre stage.
In Lysistrata, set in an imaginary world completely different but remarkably like our own, the upper class characters wear masks but the servants do not.  In Act I, we hear characters saying things like, "I wouldn't take my mask for him!" or "Come darling and let us take off our masks".  There is a sexual element.  In Act II, we discover that the masks have a function.  They purify the air.
What this means is that the character is not the mask, as in other productions.  The character is underneath the mask. Laurie wanted me to show her what these masks would look like and I made the mistake of choosing a dozen decorative masks (think the Venetian Carnivale)  from Google and sending them off.  What I learnt is the these masks would not be expressive enough for a full evening of attention  or they would be too fussy and therefore be distracting from the actor.  But I also made the point that I don't really care, in my role of playwright, what the masks look like.  I had a concept.  I thought the concept incorporated mask beautifully on many levels.  It would be up to the design team led by director to decide on "the look".  This was accepted, the roadblocks came down and starting next Tuesday I will be back in the land of Grace working towards a second draft for the professional reading in Ottawa on Tuesday, December 16th.
Have a good weekend.
David
Toronto