October 10th 2014
Dear Reader,
The past week I finished the first draft of my adaptation of "Lysistrata and the Temple of Gaia" subtitled "The Weather and the Worry" described as a 'Comedy of Genders'.
A first draft is always a big milestone in the life of a play if only that the millstone of planning is over and the characters are now speaking in their own voice rather than the one I planned for them.
Robin was the first to read it.  She loved it and so it was sent off to Laurie Steven, the Artistic Director and Jan Irwin, Dramaturge, of Odyssey Theatre in Ottawa, who had arranged for a commission and had supported the idea from the inception.  (We will be meeting in a week.  I will report on their response).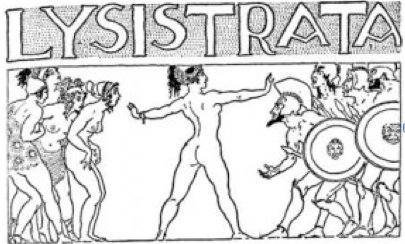 But it's pretty fair to say I was excited and relieved because it's a wonderful idea (so wonderful my German translator is sure, "it will be stolen") and I love the characters and their relationships and the way the themes, traditional and contemporary, flow out of the situation.  And the comedy? Oh my gosh, it's funny.  As soon as hit the 'send' button, I allowed myself some small hope the play would be produced and if produced would win favour and if favour then awards and with awards go on to be the most produced play in Canadian history.  Just a few small hopes like that!  But being that I had an important dramaturgical meeting approaching, I printed a hard copy (to reduce the chance of tinkering) and, with coffee in hand, read the play from beginning to end.
It was strangely sobering.  The moments of terrific impact were there but they didn't seem so impactful. The stakes did not seem as high.  The humour was not as hilarious.  In short, I had to acknowledge, it was a first draft;  a draft with great promise but nonetheless a first draft.
That's life, isn't it?  When we finish one leg of the journey, the next materializes with all the urgency of the first. We keep hoping for the definitive end and, sometimes, there appears to be one but then it dissolves like a mirage and we are at the bottom of the mountain again.   Bravo.  The journey is all.  And who was who said they didn't live to write, they lived to re-write.
Bring it on!
David
Toronto