February 7th 2015
Dear Reader,
I have never considered myself a push over, have never self-described as under-opinionated and would not reflect my boat as lacking bottom and yet I seem to have no backbone on the perennial musical theatre question:  which comes first – the lyric or the song?
For the last two years I have been working with German composer Marc Schubring who, on our first skype call, practically begged me to let him write the music first.
"If I write the music without the lyrics, I can give the melody an integrity that won't be possible if I am trying to work around the words", he said with this charming, soft German accent, "We will, of course, discuss the song together first.  Discuss the feeling, the movement, the purpose in the narrative and decide on a lyric 'hook'.  Then, please, let me go away and write the music."
I think I tried to hang onto some dignity by opining that, "I am sure there are lots of ways…" and finally, "well let's see how it goes…" before caving in completely.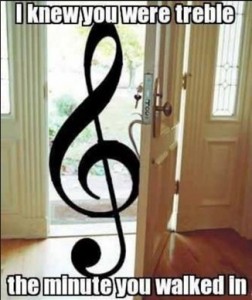 Then he sent me these gorgeous melodies.  There were times I chafed against the rigid format but mostly I worked and it worked.  (The show, Double Trouble, opens at Imagination Stage on June 27th).
Fast forward to now minus four weeks ago and I'm sitting with John Roby who has written the music for Dora winning musicals with lyricists like George F. Walker, Ray Storey and Paul Ledoux.  I tell him about my conversation with Marc.
"That's funny", he says enthusiastically, "I always write the music after the lyrics.  Like…"  And I see him reflect back on his thirty years of professional experience, "Like always.  Just send me what you've got. It doesn't have to be finished.
So I caved.  New folks.  New strokes.  And it's interesting. I have complete freedom to write the lyric in any form I want but now I have to decide.  With music first, the form was given to me.  No responsibility for the urn, just the wine within.  This way, I am creating a lyric without knowing what the emotional surround will be.  So far, I've written lyrics for two tunes and I'll hear John's musical responses next week.  I'll let you know how it goes.
In other news:  For those of you who saw Roseneath' s production of Smokescreen, here's a contract from the production in Germany.   They seem to have surrounded the set with marijuana plants!    http://www.harztheater.de/bigdeal
Have a good weekend,
David