Had our first day of blocking yesterday. Alternately thrilling and terrifying. Like watching a toddler that you hope will grow up to be an Olympic athlete. Cast of 31 now. Don't know where the other three came from. Everyone learning lines, lyrics, harmonies, choreography. The director has the measure of it, creating theatrical images as scene flows into scene. He calls it "cinematic". I call it "Shakespearian".
The space creates huge problems. It is set, literally, in stone. An old barn with a narrow balcony in front, another old barn to the left and a green field rising up to yet another posted among trees in the distance.
Gorgeous… but immovable.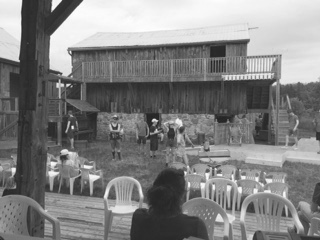 We must make the story flow around it. From the playwright's chair, the comedy is landing well and the music helmed by Music Director Justin Hiscox. The dramatic scenes need more time to germinate and grow. They are currently sketched in as we move rapidly through the material to establish a shape to the piece. And surprisingly, some of the most complicated scenes seem to find their shape efficiently.
The director, David Ferry's planning showing here. Lots of goodwill from children ages seven to seniors despite the blistering, literally, sun on the acting area. We are exhorted to hydrate, to "cover up", to, "find some shade". Great to have old friends like Colin Doyle in the cast and new friends like Deborah Williams. And the natural surrounding, the green fields and blue sky, is gorgeous.
We will see what it feels like in the rain!