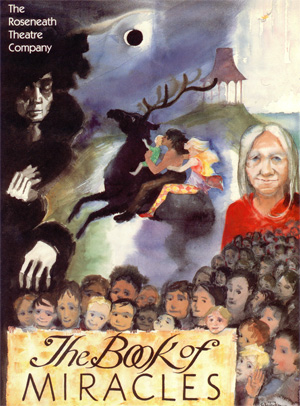 (Written with Robert Morgan)
"…imaginative, entertaining and captivating fantasy adventure"
— The Winnipeg Sun
One act play for young audiences.
In the land of Haven, magic is real—and so is evil. The young girl Sessalyin, soon to be initiated as an adult magician goes on a quest, and on the way – discovers many things about herself, and fights in the face of adversity.
Several characters originally performed by two actors.
"Like all great fantasy stories, "The Book of Miracles" is a quest, at whose heart is self-knowledge, and at whose conclusion is compassion and a fuller understanding of the human condition."
— Sue Daniels, Head of Drama, Downsview Secondary, North York