January 30th 2015
"By going fast, you don't allow that criticism to catch up,
you just plow right over it and just keep on going, baby,
and see where it gets you!"
Laurence Hill, Novelist, Book of Negroes
Dear Reader,
There is an old aphorism, and I love aphorisms, that opines:  "What doesn't kill you makes you stronger".  The same can be said of deadlines.  My Frenchys composer and collaborator John Roby eyeballed each other in December and said, "Let's have a first draft by the end of March".
We are both old dogs of theatre creation and we know how easy it is to fritter the time away.  A deadline, even self-imposed, is essential or you can spend three hours deciding on the best font for the title.  A deadline creates energy. It focusses priorities.  It sets the alarm.  It closes the newspaper.  It postpones the dinner party.  At the same time, a deadline, poorly conceived will raise tension beyond the useful and into the range of paralysis.  "I will never get this done!", the inner harpy screeches and if not firmly silenced becomes a drag if not a self-fulfilling prophesy.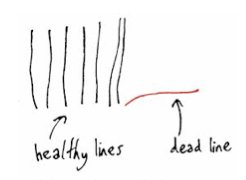 For me the dilemma is how much planning you need to do for the journey.  There is the David French approach which is to leave without baggage and pick up what you need along the way and then there's my approach which can extend to writing prose descriptions of every beat of dialogue before the boat is allowed to leave the dock.  With Frenchys I have determined to 'split the difference'. The characters, and their journeys, have been, to a great extent, mapped out.  John and I have created a list of songs.  It is now the end of January.  It is time to start and, as Mr. Hill recommends, "keep on going, baby!"  And so I will… with a fresh cup of coffee. That's reasonable.  Isn't it?
David
Toronto
P.S.  Toi-toi-toi to director Angela Bucher and the cast of "Big Deal?" ("Smokescreen" in Canada) who opened at the Nordharzer Städtebundtheater in Germany yesterday.