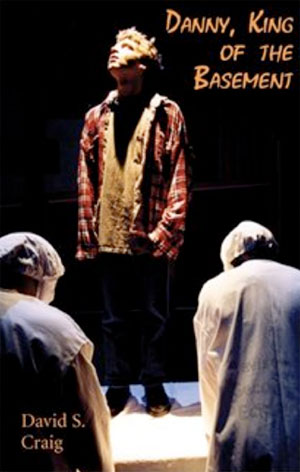 "The most successful children's play in Canadian theatre history!"
– Manitoba Theatre for Young People
"Everything that you want a show for young audiences to be."
– Richard Ouzounian, Toronto Star
One act play for young audiences.
Danny, King of the Basement tells the story of Danny 'Delco' Carter. Danny is the 'king of moving'. In two years, he and his unemployed Mother have moved more times than most kids lose teeth; there's just never the money to pay the rent. But far from being overcome by his homelessness, Danny appears to be thriving. He can pack his bags faster than it takes to tie a shoelace. He can make a friend in a morning and a best friend in a day. When Danny moves into a basement apartment on upscale Clinton Street, the kids he meets have more material things but they seem to have bigger problems than just being hungry. Penelope's parents are separated and are using her as a go-between because they won't talk to each other.  Angelo's Dad is scary; he sounds (and looks) like a dinosaur.  But Danny's imaginative play creates a sense of community that allows his friends to cope with their problems and, ultimately, to help Danny – because Danny's crisis isn't losing a home; it's gaining one.
Characters: 2M, 2F.
Danny, King of the Basement was a finalist for The German Theatre Prize, the first Canadian play so honoured.  It was the Winner of the Dora Mavor Moore Award for Outstanding Production for Theatre for Young Audiences, and Winner of the Canada Council Prize for Outstanding Production.
WANT TO KNOW EVEN MORE? DOWNLOAD THE DANNY KING OF THE BASEMENT PRESS KIT !
HOW TO GET A COPY
IN CANADA, THIS PLAY IS AVAILABLE FROM PLAYWRIGHTS GUILD OF CANADA AND PLAYWRIGHTS CANADA PRESS. OUTSIDE OF CANADA, THE SCRIPT IS AVAILABLE FROM  DRAMATIC PUBLISHING.
ARTIST STATEMENT
I was inspired to write this play while driving my car. I say "inspired" because it's what I've heard writers say about the moment of beginning. For me the effect was more akin to grabbing a live wire. I was casually listening, as I always do, to CBC radio. They were talking about something called the Golden Report. The statistic that jolted me was this – 25% of homeless people in Toronto are children under the age of 12. I knew we had a problem with homelessness. I had no idea it affected so many kids. I knew I needed to do something as a parent of two children, as a citizen of Toronto and especially as a theatre artist.
That knowing sustained me for the next four years of research, writing to opening. I have three sincere and heartfelt thank you's. My old friend and colleague Richard Greenblatt who acted as dramaturge and director for this production. His enthusiasm, generous talent and deep commitment to this project, and theatre for young audiences in general, contributed enormously to the success of this play. To the Laidlaw Foundation, whose financial support of new artistic creation and its role in young lives was an important resource in the early days of development.And finally, to Tim Jennings, the Managing Director of Roseneath Theatre, who provided the practical framework without which theatre art cannot exist.
—David S. Craig, Toronto, 2004
PRODUCTION HISTORY
Danny premiered at the Lorraine Kimsa Theatre for Young People in 2001 to unanimous critical acclaim from The Toronto Star, CBC Radio, The Toronto Sun and NOW Magazine.
The play was officially adopted by The Campaign Against Child Poverty (Walter Pitman, Arlene Perly-Rae), the National Anti-Poverty Organization and been recognized by such disparate groups as:  Campaign 2000, The Child Welfare League of Canada, The Elementary School Teacher's Association, The Toronto District School Board, The Ontario Federation of Teachers, Toronto Councilor Olivia Chow (Child Advocate), York University and The Ontario Council of Judges.
In 2004, the play had its American premiere at the Kravis Centre in Palm Beach, Florida and showcased at the International Showcase in Philadelphia.
In the winter/spring of 2005, the play was produced by M6 Theatre and the Sheffield Theatres in the U.K., touring for 11 weeks.
Simultaneously, Roseneath Theatre toured the play for twenty-two weeks including an eleven city National Mainstage Tour.  As part of this tour, the play was performed on Parliament Hill to officially open the first session of Parliament.
In the summer of 2005, the printed play script, published by the Playwrights Canada Press,  was recognized as a Starred Selection ("exceptional merit") by the Canadian Children's Book Centre.
During the same period, the play was optioned by Instinct Films in Montreal and received Telefilm funding towards a feature length script.  Tim Southam is named director.
In 2005, 2006 and 2007 Roseneath Theatre toured into the United States (including the Tribecca Centre for the Performing Arts in Manhattan and three weeks at Childs Play Theatre in Phoenix) for a total of twenty-five  weeks as well as select Canadian dates including a return engagement at the Lorraine Kimsa Theatre for Young People Mainstage.
In the fall of 2007, Roseneath Theatre received a $150,000 grant from the Ministry of Education through the Elementary Teacher's Federation of Ontario to launch a new curriculum unit on poverty.
To date, Roseneath Theatre has given six hundred performances of the play to a quarter of a million children and their families making it the most successful Canadian children's play in Canadian theatre history.