Dear Reader,
I am sitting in Washington-Dulles Airport, returning from Double Trouble's first five days of rehearsal. It's an interesting room. Six out seven actors are women as are the Director and Stage Manager so Jamie and I are in a curious, but natural, minority.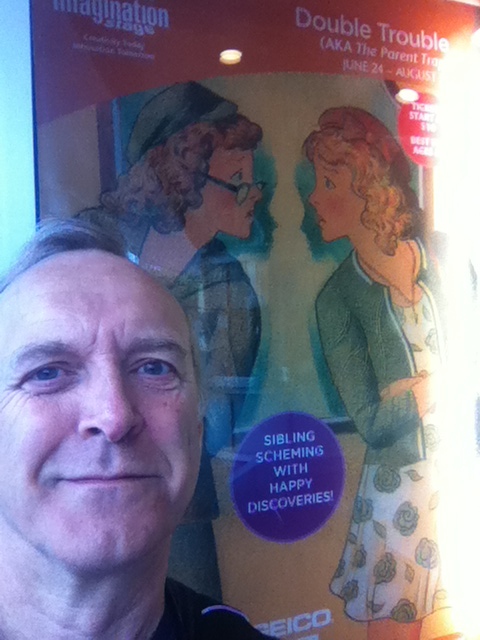 Playwrights talk about the thrill of watching a scene they have imagined come to life with real actors in three dimensions. I can trump that with the experience of having a cast of talented musical theatre singers, and where more talented than in America, delivering my lyrics to the music of Marc Schubring and the orchestrations of Nico Gaik. It's thrilling.
But the music was the least of my worries. I was polishing and updating dialogue for at least three hours every night. The actors all have simple, direct questions about the characters, the scenes, their lines. It's a struggle not to be defensive but so often the problem and the answer occur within seconds. We're not talking about big concerns. Those were ironed out months ago but the details, where the devil is, are ultimately very important because they are so visible. But the overall arc of the play, when I squint my eyes and ignore the details, is really good, a credit to Kastner (the novelist). The first read/sing through, hastily rehearsed in three hours, left many of the Imagination Stage staffers in tears. The publicist hugged the Artistic Director and says, "Thank you!", presumably because she felt she has something to sell. All good signs. I confess to weeping.   The scene where the two re-united parents and Lisa sing to an unconscious Lottie would move a Rock Eater.
I was on Skype with Marc (the composer) in Berlin throughout and the adjustments to the orchestrations rolled into our in boxes regularly. I will be on the receiving end of those email requests starting tomorrow. Bring it on. I'll be back in Bethesda for Tech and Previews on June 23rd. Watch these pages!
Have a good week,
David
Washington, D.C.